Attention A T users. To access the menus on this page please perform the following steps. 1. Please switch auto forms mode to off. 2. Hit enter to expand a main menu option (Health, Benefits, etc). 3. To enter and activate the submenu links, hit the down arrow. You will now be able to tab or arrow up or down through the submenu options to access/activate the submenu links.

Dementia Caregiver Web Support
Creating a Daily Plan

---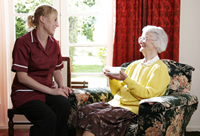 A daily routine is helpful for you and your loved one with dementia. Your loved one may rely on you to make a daily plan, but you can involve him or her in the process. When you make a daily plan, focus on what your loved one can complete and avoid activities that are too frustrating.
Before reading the content on this page, it may be beneficial to review the following video(s) from the Office of Rural Health (ORH).
Implementing a Daily Plan
Length: 06:01 (Link opens new window)
Now that Margaret has help, she can create a daily routine for Harold based on his tastes and lifetime habits.
Maintain a routine to reduce problem behaviors. Your loved one may need some time to rest throughout the day, so plan time for rest too. Keep your schedule in a place where your loved one has access to it. Remind your loved one to consult the schedule. This can reduce repetitive questions about the day's routine.
---
What to Include in Your Daily Plan
Focus on Activities you Both Enjoy
This might include activities that you have enjoyed together in the past or simplifying activities that have become too hard for your loved one to complete. Make sure your loved one feels successful and has fun completing the activity.
Housework or Tasks
Include your loved one in housework or tasks that he or she can finish. This will give your loved one a sense of purpose and accomplishment. It might be helpful to demonstrate the task first, then your loved one can follow along. Help them get started in the activity. Monitor the activity to decide if your loved one can do the activity alone or needs supervision.
Activities
It is important for your loved one to stay active. Activities can be in large groups, small groups, or individual. Keep in mind that it is okay to bend the rules for the activity because the important thing is that your loved one is participating, not that they are doing it "right."
Some activities your loved one may enjoy include:
Household chores: setting the table, washing dishes, sorting and folding laundry, and sweeping the floor
Cooking and baking: measure, mix, and pour ingredients; instructing on how to prepare the recipe; watching others cook in the kitchen
Exercise: take a walk together, use a stationary bike, throw a ball back and forth, lift weights
Music and dancing: play music, talk about the music playing, sing and dance to popular music, or attend a musical program
Pets: feed, groom, walk, or hold a pet
Gardening: water the plants, plant flowers or vegetables, prune the plants
Visiting family, children, and friends: play a simple game, read stories or books, walk in the park, or go to school events
Going out: favorite restaurant, park, or museum (remember to plan outings for the time of day your loved one is at their best
---
Creating Your Daily Plan
While thinking of activities to participate in with your loved one, try to choose activities in a few of these general areas. Before trying out any activities, make sure they are safe for you and your loved one.
Physical Activities
Walking
Dancing
Bowling
Playing ball or Frisbee with a group
Social Activities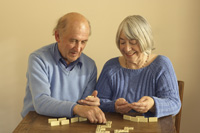 Visits from family and friends
Small parties
Playing cards or bingo with a group
Exercising with friends
Intellectual Activities
Crossword and find-a-word puzzles (these are ok as long as they don't cause your loved one to get frustrated or agitated)
Card games
Spiritual Activities
Singing hymns
Attending worship services
Spiritual activities through a church or organization
Creative Activities
Crafts (painting, drawing, pottery, crochet)
Hobbies (building small toys, gardening)
Adult coloring books
Sensory Activities
Toys with zippers, buttons or velcro closures
Lacing or stringing games
Toys with interlocking pieces
Peg boards or Lite Bright
Stuffed animals or dolls
Work-Related Activities
Some individuals with dementia will revert to when they were working and look for activities related to their past job
---
Sample Daily Plan
The following is a sample daily plan developed by the Alzheimer's Association Caregiver Center. This is a good example to refer to as your develop your own plan.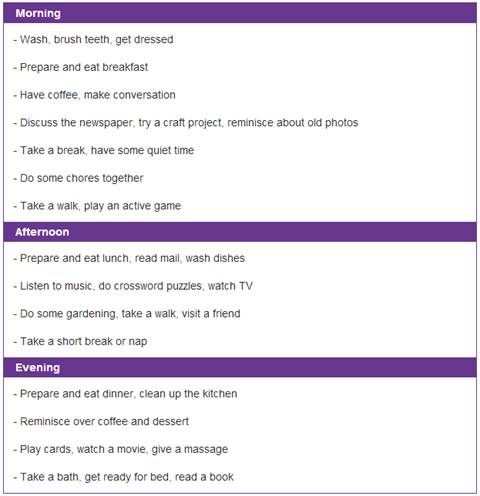 ---
Is your Daily Plan Helping?
Evaluate how well your routine works. Do you and your loved one need more routine or more variety in your day-to-day activities? Don't be afraid to change or to experiment with your routine. Pay attention to the process and not just the outcome of your routine.
Take notes or keep a diary about how well your routine works. You might add this to your stress diary. Try varying the time of day or the order of necessary daily activities that are challenging or frustrating to your loved one.
Think about each activity that you do regularly. Can the most challenging activities be limited or eliminated? For instance, if your loved one dislikes bathing, you can think about reducing the number of times he or she bathes each week.
---
Additional Resources
VA Resources
US Department of Veterans Affairs
VA values your commitment as a partner in our pledge to care for those who have "borne the battle." We have several support and service options designed with you in mind. The programs are available both in and out of your home to help you care for yourself and the Veteran you love.

VA Caregiver Support Line: 1-855-260-3274
Geriatrics and Extended Care Services (GEC) is committed to optimizing the health and well-being of Veterans with multiple chronic conditions, life-limiting illness, frailty or disability associated with chronic disease, agining or injury. This VA site reviews information on delirium, dementia and Alzheimer's care, decision making, home and community based services, and advance care planning, among many other important topics that may be important for you as a caregiver.
Veteran's Crisis Line Phone: 1-800-273-8255 (Veterans Press 1)
The VA does not endorse the following resources or guarantee that their information is 100% accurate. However, you may be able to find some helpful information by visiting the following pages:
Alzheimer's Association
This link from the Alzheimer's Association's Caregiver Center will describe and illustrate how to create a daily plan that allows you to spend less time trying to figure out what to do, and more time on activities that provide meaning and enjoyment: Daily Plan.
---
References: Information adapted from Alzheimer's Association and Office of Rural Health
If you have any questions or concerns, contact us.
return to top