Attention A T users. To access the menus on this page please perform the following steps. 1. Please switch auto forms mode to off. 2. Hit enter to expand a main menu option (Health, Benefits, etc). 3. To enter and activate the submenu links, hit the down arrow. You will now be able to tab or arrow up or down through the submenu options to access/activate the submenu links.

Dementia Caregiver Web Support
Overview of Dementia

---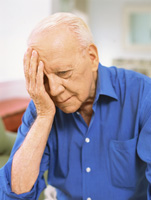 What is Dementia?
Most people with dementia experience behavioral changes as their condition progresses, which can become challenging and distressing for caregivers to manage. Before reading the content on this page, it may be beneficial to review the following video(s) from the Office of Rural Health (ORH).
Communicating with Someone with Dementia
Length- 15:41
Teri learns how to better communicate with Frank. (Link opens to new page)
Overview of Dementia
Length: 04:44
Nurse defines three stages of dementia. (Link opens to new page)
Dementia refers to changes in brain functions such as:
Memory
Planning
Reasoning
Communication


---
Common Dementia Symptoms
Although each person is different, the following symptoms are common and may be seen in individuals with dementia:
Memory loss
Trouble communicating
Trouble learning new information
Agitation and inappropriate behaviors
Paranoia and hallucinations
---
Types of Dementia
Because Alzheimer's disease is the most common type of dementia, some people use this term in place of other types of dementia.
However, there can be many forms of dementia. A few examples include:
Vascular dementia: A decreased flow of blood to the brain can cause brain damage.
Parkinson's disease dementia: The part of the brain that controls movement is affected and over time these effects can spread to other parts of the brain. This can affect things such as the individual's memory, attention, and judgment.
Lewy Body dementia: Abnormal round structures, which are called Lewy Bodies, develop in the brain causing difficulties to think and move.
Frontotemporal dementia: This describes different types of disorders that affect the frontal and temporal areas of the brain, which help control personality, language, and behaviors. This usually occurs in people at younger ages, around 40-70 years old.
Other medical problems: These are typically known as reversible dementias and can be caused by things such as medications, depression, and infections.
Most dementias are progressive, which means it will get worse over time. The disease will affect each individual differently so there may be periods of stability. Changes can occur quickly or over longer periods of time.
---
Stages of Dementia
Alzheimer's disease and related diseases can be grouped into three stages:
Early/mild
Middle/moderate
End-stage/severe
Early/ Mild Stage
The early/mild stage usually lasts between 2 and 8 years. The individual may experience some forgetfulness but is able to function with some assistance. Other symptoms at this stage may include:
Short term memory loss
Errors in judgment
Slight difficulty in communicating
Unawareness of their difficulties
Disorientation to the time and where they are
Changes in behaviors or lifestyles
During this stage it is helpful to develop daily routines. For example, keeping meal times and grooming routines consistent and at the same time each day may be helpful.


Middle/ Moderate Stage
The middle/moderate stage of dementia may last between 3 and 6 years following the early/mild stage. In addition to the symptoms typically seen in the early/mild stages, individuals may also experience:
Short term and some long term memory loss
Increased need for help with daily tasks (such as grooming and bathing)
Difficulty communicating
Decreased mobility and balance
Restlessness or wandering
Emotional ups and downs
Severe/ End Stage
The severe/end stage of dementia may last between 1 and 4 years following the middle/moderate stage. Individuals in this stage may need constant assistance and supervision. In addition to the symptoms associated with the earlier stages, individuals in this stage may experience:
Difficulty talking or understanding
Difficulty following one-step commands
Repetition of words, phrases or motions
Incontinence
Behavioral problems
Decreased motor control




Imagining your loved one in this state may be very difficult or painful.
However, it is important for you to understand what the future may bring so that you can better prepare mentally and emotionally.
It is still possible to enjoy a loving and fulfilling relationship, even in the late stages.






---
Additional Resources
VA Resources
US Department of Veterans Affairs
VA values your commitment as a partner in our pledge to care for those who have "borne the battle." We have several support and service options designed with you in mind. The programs are available both in and out of your home to help you care for yourself and the Veteran you love.

VA Caregiver Support Line: 1-855-260-3274
Geriatrics and Extended Care Services (GEC) is committed to optimizing the health and well-being of Veterans with multiple chronic conditions, life-limiting illness, frailty or disability associated with chronic disease, agining or injury. This VA site reviews information on delirium, dementia and Alzheimer's care, decision making, home and community based services, and advance care planning, among many other important topics that may be important for you as a caregiver.
Veteran's Crisis Line Phone: 1-800-273-8255 (Veterans Press 1)
The VA does not endorse the following resources or guarantee that their information is 100% accurate. However, you may be able to find some helpful information by visiting the following pages:
Alzheimer's Association
National Institute on Aging
---
References: Information adapted from Alzheimer's Association, National Institute on Aging and Office of Rural Health
If you have any questions or concerns, contact us.
return to top